Quick Guide for League & Sea Cadets
Cadets have the responsibility to report to mandatory drills, comply with grooming regulations and wear the proper uniform as published on the Plan of the Month (POM).
DRILLS:
Cadets are required to attend all mandatory drills (on or off base) or a minimum of 75% of all drills. Punctually is essential! Report to and be picked up upon dismissal exactly at the specified time published on the POM. POM's are sent via email and prior to the drills. When the drill is a field trip, cadets must be dropped off and picked up to and from the location of the field trip (often within 1 or 2 hours of driving distance).
UNIFORMS:
Cadets receive a Seabag with uniforms to wear at different events. Accessories and personal items such as work boots, dress shoes, running shoes, name tags, PT gear, etc. need to be purchased separately. Navigate to the UNIFORM link for a quick guide and download the full regulations from Homeport.
TRAINING:
After enrolling in the program, all Sea Cadets must attend a mandatory two-week session called RT (Recruit Training) or "Bootcamp". This training session is taught at the Navy's Recruit Training Command, at other naval bases or stations, and at regional recruit training sites using other military host resources. The curriculum of this training is approved by the U.S. Navy and standardized at all training sites. Cadets receive 106 hours of instruction, with a focus on the Navy's core values of honor, courage, and commitment. Both tone and tenor of instruction are modeled after the Navy's recruit training.
After successful completion of recruit training, Sea Cadets may choose from a wide variety of advanced training opportunities that are nationally advertised by USNSCC headquarters. League Cadets who complete orientation (a mild version of Bootcamp) can also participate in specifically tailored advanced training sessions. These training sessions focus on military and general career fields and opportunities. It also serves to provide cadets with disciplined and interesting activities during the year.
In order to advance in rank, cadets must attend the "away-from-home" Advanced Trainings (AT). Pass Physical Readiness Test (PRT) and complete the Coursework in POLARIS, a web-based system that cadets gain access to upon approved enrollment. While essential requirements can not be waived, other non-essential procedures or unit/training-specific policies may be modified or waived as necessary to accommodate disabilities. To enlist in one of the trainings, cadets can review the available trainings in Homeport and must contact the chain of command for an application. Cadets have the opportunity for advancement every six months. There are required coursework, trainings, and events to get promotions.
PRT REQUIREMENTS:
Depending on age and gender, the matrix for passing the Physical Readiness Test is below.
Male Cadets
AGE
PLANKS
PUSH-UPS
1M RUN
10
2:10
1:40
1:00
22
14
12
7:57
9:48
11:40
11
2:20
1:45
1:05
27
15
14
7:32
9:20
11:25
12
2:30
1:50
1:10
31
18
15
7:11
8:40
10:22
13
2:40
1:55
1:15
39
24
20
6:50
8:06
9:45
14
2:50
2:00
1:20
40
24
20
6:26
7:44
9:30
15
3:00
2:05
1:25
42
30
25
6:20
7:30
9:15
16
3:10
2:10
1:30
44
30
25
6:08
7:10
9:00
17/18
3:10
2:10
1:30
53
37
30
6:06
7:04
8:45
First Score is Excellent, Middle Score is Good, Last is Satisfactory.
Excellent scores on all categories earn the Physical Fitness Ribbon.
Female Cadets
AGE
PLANKS
PUSH-UPS
1M RUN
10
2:10
1:40
1:00
20
13
9
9:19
11:22
13:00
11
2:20
1:45
1:05
19
11
7
9:02
11:17
12:42
12
2:30
1:50
1:10
20
10
5
8:23
11:05
12:24
13
2:40
1:55
1:15
21
11
7
8:13
10:23
12:15
14
2:50
2:00
1:20
20
10
7
7:59
10:06
12:00
15
3:00
2:05
1:25
20
15
10
8:08
9:58
11:45
16
3:10
2:10
1:30
24
12
10
8:23
10:31
12:15
17/18
3:10
2:10
1:30
25
16
10
8:15
10:22
12:15
First Score is Excellent, Middle Score is Good, Last is Satisfactory.
Excellent scores on all categories earn the Physical Fitness Ribbon.
---
Go to the homeport button under the main menu or click on the "Homeport" button below. Then fill out the short form and submit it. Your USNSCC ID is your ID number.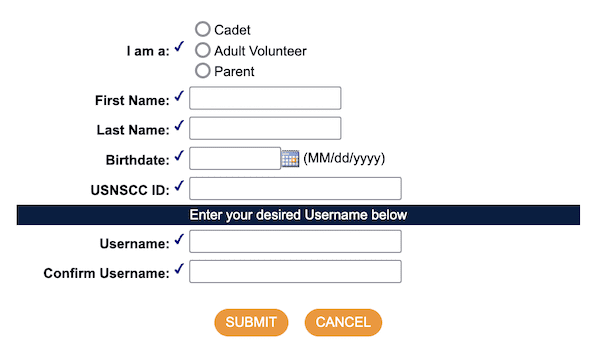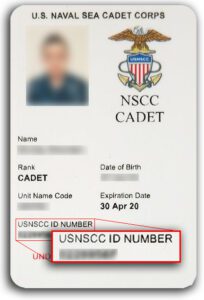 From the Quaterdeck you can get to "POLARIS" a web-based coursework application to start your coursework. You will also have access to the available training list. Remember, the first training you'll ever do is RT (Recruit Training) A.K.A. "Bootcamp". To qualify for Bootcamp you need to pass the E-1 coursework in POLARIS and PRT.
Advance Training
Once you have signed up in Quarterdeck/Homeport and successfully finished the coursework in Polaris, you can search for Recruit and Advance Trainings available. This link will take you to the training list in Homeport (must be signed in). Once you find a training, click on the links to expand, read about requirements and information needed. If you have the requirements (PRT/coursework/age/etc.) and want to participate in any of the trainings, have your parent register you using the parent portal.
Cadet Advancement
Navy League Cadet Corps (NLCC) Advancement
Naval Sea Cadet Corps (NSCC) Advancement

Cadet Code of Conduct
The USNSCC Cadet Code of Conduct applies to all NSCC and NLCC cadets and carries the force of USNSCC Regulations. Its purpose is to inspire our cadets to challenge themselves, to reflect on the expectations the program has set for them and that they have set for themselves, and to strengthen their determination to become leaders of character.

SERVE FAITHFULLY
• put others before self
• participate with enthusiasm
• meet or exceed all advancement requirements
HONOR OUR FLAG
• wear my uniform with pride
• follow our Navy's customs and courtesies
ABIDE BY U.S. NAVAL SEA CADET CORPS REGULATIONS
• know the rules and follow them
• do the right thing, even when it's not popular
• stay away from alcohol, drugs, and gangs
CARRY OUT THE ORDERS OF THE OFFICERS APPOINTED OVER ME
• perform each task with maximum effort
• earn the trust of my superiors and the respect of my subordinates
AND SO CONDUCT MYSELF AS TO BE A CREDIT TO MYSELF, MY UNIT, THE U.S. NAVAL SEA CADETS CORPS, THE NAVY, THE COAST GUARD AND MY COUNTRY
• strive to become a leader of character
• treat others with dignity and respect
• stand up against bullying, hazing, harassment, discrimination, gossip, and all other forms of prohibited conduct


Awards of the US Naval Sea Cadets Corps
Command Badges
---
Qualification Devices
---
Ribbons
---
Appurtenance
To learn how to, or what training, earn which ribbons and appurtenance download and read the Awards Manual.