We are glad to see that you are interested in the Sea Cadet program at the George Washington Division for your son or daughter. This program requires 100% commitment from cadets and parents. Before jumping into the application process, here's a little bit about the Sea Cadet program. Our Unit, the George Washington Division, is located at SUNY Maritime, 6 Pennyfield Ave. Bronx, NY. Our year-round monthly drills include activities in the classrooms, computer labs, pool, indoor gym, ship simulator, Marine obstacle course, and waterfront experience. Midshipmen from the college's Naval Reserve Officers Training Corps (NROTC) help train the cadets during drills. During the summer and winter breaks, cadets can enroll in Advance Training, which includes seamanship, sailing, aviation, security, building robots, medical, STEM, SCUBA, submarines, photography, culinary, special forces training, and an international exchange program.
1. VERIFY QUALIFICATIONS:
Cadet must be a US citizen or permanent legal resident, satisfactorily be enrolled in a public or private school or a certified home school program with a GPA of at least 2.0, in middle or high school, be of good moral character, unmarried and remain single while in the program, and free of any felony convictions. We strongly encourage cadets to be fully vaccinated against the COVID-19 virus.
2. ATTEND AN OPEN HOUSE:
Prospective candidates and parents are invited to an orientation meeting to share information about the unit's activities and requirements. The Commanding Officer (CO) and staff will ensure that the family understands both the opportunities and involvement commitments of the US Naval Sea Cadet program. Fill out the form below
3. COMPLETE THE APPLICATION:
When you are ready to enroll your cadet(s), follow these steps:
Create an account (with parent's name).
Go to the "cadet application," fill out the online pages (1 & 2). Please be aware that cadets MUST have a unique email address on the application.
At the bottom of the application screen, you will find the "Application" button, download and complete the full application by hand, including physical examination by the Pediatrician, current immunization records, and COVID waiver. Scan the complete form and email it to the CO.
Head back to this page and continue with the steps below.
You will receive an email with further instructions to upload the medical forms to the parent portal.
4. FEES
There is an annual enrollment fee of $225. Second or more siblings have a discount of 50%. You can pay this fee by going to the "shop" button above.
A one-time uniform deposit of $200 grants the Cadet a full Seabag. This deposit is refundable upon returning all uniforms in the same condition, within six (6) months of cadet departure from the program. Uniform accessories and personal items such as work boots, dress shoes, running shoes, PT gear, etc. are purchased separately, see below.
Drill chow money ranges from $15 – $18 per session.
Advanced Training (AT) and Recruit training (RT): These costs vary but range from $175 – $350 per training. Cadets are required to attend at least one AT per year after RT as a requirement in the Sea Cadets. While instruction, room, and board are included in the training, transportation to and from the sites is the parent's responsibility.
5. WAIT FOR APPROVAL:
All applications are submitted to headquarters. Upon approval, the cadets will receive an ID card and be considered new recruits of the George Washington Division. ID cards need to be worn on the uniform at all Sea Cadet functions. There is a $17 replacement fee for lost ID cards.
6. AFTER APPROVAL:
Upon application approval and payment has cleared, the cadet will receive a Sea Cadets ID and the seabag with uniforms. Parents must purchase the following personal items:
PT Gear
Name Tapes
Dress Uniforms
Basics
PT gear: Gold t-shirt, Mid Length Royal Blue basketball shorts, black tennis shoes, white socks (Vanguard or any target, walmart or sport store)
Winter PT gear: Gold t-shirt, navy blue sweat pants, navy blue sweat shirt (Vanguard or any target, walmart or sport store)
PT Tennis shoes (black or navy blue) and white socks (any target, walmart or sport store)
Type I: Crewneck navy blue t-shirts, black socks (any target, walmart or sport store)
Type III: Crewneck coyote brown t-shirts, black socks (any target, walmart or sport store)
Working Boots: G.I. Type Speedlace Combat comfortable 9″ leather boots (any shoe store, Amazon, Roberts – Mamaroneck)
Name tapes: Cadet's lastname matching the working uniform's pattern (1800NameTapes.com)
Uniform flashes and ranks: See above (Vanguard.com)
Dress Shoes for Dress Blues and Dress Whites Uniforms: Military Uniform Oxfords (any shoe store)
Blousing straps (Navy store, amazon, walmart)
7. RESOURCES FOR PARENTS
---
For League Cadets
For Sea Cadets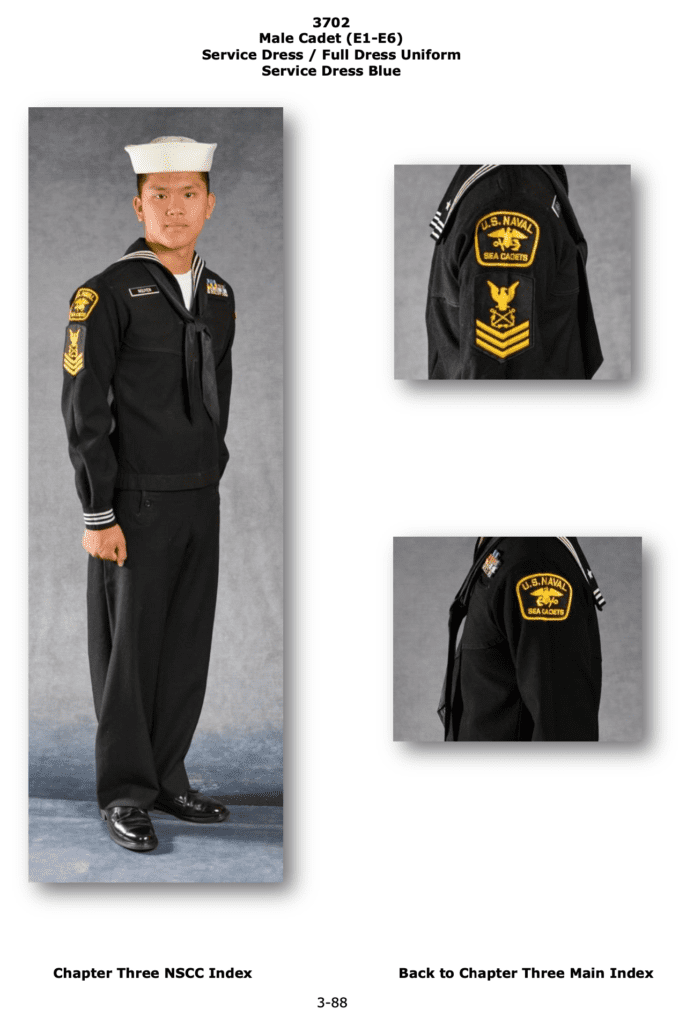 Thanks to the new "Parent Portal", parents can now submit registration for Advanced Trainings for their cadets. Please be advised that unit CO has discretion on acceptance as well as COTC. Sign up on the "Parent Portal" by clicking the "Quarterdeck" button below. If you have any questions, email ao.032gwd@seacadets.org
8. HOW TO SIGN UP IN THE PARENT PORTAL
Click on the button below, then fill out the short form and register for the parent portal in Magellan. Your cadet's USNSCC ID is the ID number.
VIDEO INSTRUCTIONS
Quarterdeck Sign up
First time user set up
Adding your cadet
Signing up for training
Quarterdeck sign up
First time user set up
Adding your cadet
Signing Up for training
TROUBLESHOOTING
Make sure your cadet is signed off of his/her account before starting a new one. If your computer automatically signs one of you up, use a different browser or clear cookies, then sign up.
Only the primary parent can create an account and attach a cadet. We are working on allowing additional connections.
If you are an adult volunteer, you attach your cadet through your adult volunteer account, not a new parent account.
Verify you are using the same name as the primary contact in the cadet's profile. Example: Ron vs. Ronald
Look out for a space at the beginning of a name in the cadet's profile. Example " John"
Make sure you put the first name and last name in the corresponding field.
Because of email spam filters, you may see delays in receiving the temporary password email email, sometimes up to 36 hours. Please also check the spam and update folders of your email.
8. SERVICE JACKET
The service jacket is assembled by the unit and contains the most up to date information entered in the portal, it includes:
LEFT SIDE: Training Orders (NSCTNG 005), Special Forms (documents specific to trainings that are listed in the training details), and COVID Waiver (Homeport > Forms & Templates).
RIGHT SIDE: Cadet Application (NSCADM 001 Pages 1 & 2), unexpired Medical Exam (NSCADM 001** pages 3, 4,5 & 6), Medical Supplemental (include only if applicable, NSCADM 001 pages 7 & 8 ), and the Accommodation Form (include only if applicable, NSCADM 001 pages 9 & 10). Any other documentation required by the Training Authority
---
WHAT IS THE USNSCC OFFICER CORPS?
The NSCC Officer Corps is made of dedicated volunteers adult leaders, both civilian and military, who provide for the administration of all facets of the U.S. Naval Sea Cadet Corps. This includes the operation of local units to the operation of two-week summer training programs. Officers must be U.S. Citizens and be at least 21 years of age.
WHAT IS AN NSCC MIDSHIPMAN?
NSCC midshipmen are adult leaders in training who are between the ages of 18 and 21. Normally NSCC midshipmen are former cadets who reached the rate of seaman as a cadet, former JROTC cadets, or members of the military who are not old enough to be an NSCC instructor or officer.
WHAT IS AN NSCC INSTRUCTOR?
An NSCC instructor is an adult leader who either has an interest in becoming an NSCC officer or who wants to dedicate his or her time to mentoring and training cadets. All persons applying to be in the NSCC Officer Corps are first enrolled as an NSCC instructor for a period of one year. After one year, instructors may apply for an appointment to the NSCC Officer Corps or remain an instructor. Instructor responsibilities are generally less than those of an officer.
CAN PARENTS BE NSCC ADULT LEADERS?
Yes. In fact, a large percentage of NSCC adult leaders are parents of current and former cadets. Involved parents are the lifeblood of the NSCC Officer Corps.
WHAT EXPERIENCE IS REQUIRED?
The U.S. Naval Sea Cadet Corps is organized along military lines; therefore, having military experience is a definite plus, but it is not a requirement. Experienced adult leaders and senior cadets will gladly help you become familiar with the military atmosphere. At most local units, volunteers are needed to instruct cadets in a variety of subjects, keep and maintain service records, keep track of cadet training, maintain unit supply, and recruit and publicize the program. As long as you are motivated and willing to help in the cause of promoting the positive development of youth, there is a place for you in the Corps.
DO I HAVE TO WEAR A UNIFORM?
Yes. NSCC officers, midshipmen, and instructors are authorized by the Secretary of the Navy to wear the U.S. Navy officer uniforms appropriately modified with NSCC insignia. NSCC adult leaders are authorized to purchase uniform items from U.S. Navy Uniform Shops on base and the Navy Exchange by phone and mail order. In some cases, units have a supply of surplus/used uniforms that may be provided at no or nominal cost. Many large Naval bases also have Navy and Marine Corps Relief Society thrift shops that sell used uniform items at deep discounts. In any case, uniform purchases are often income tax-deductible (consult your tax attorney for more information).
DO I HAVE TO BE PHYSICALLY FIT?
Yes. You must be physically fit and free from ailments that would prevent you from supervising youth and performing your assigned duties. You must also meet U.S. Navy weight standards to wear the NSCC uniform. Those who do not meet the weight requirements may wear an alternate civilian style uniform.
DO ADULT LEADERS EARN RANK?
Yes. Those adult leaders who apply for appointment to the NSCC Officer Corps will have the opportunity to earn rank. New NSCC officers are appointed by the NSCC Executive Director to the rank of ensign. The NSCC officer rank structure parallels that of the U.S. Navy. NSCC officers may promote through the rank of lieutenant commander. In order for NSCC officers to promote, they must meet minimum performance, training, and time-in-service requirements. They must also contribute a minimum amount of volunteer service to NSCC summer training programs. NSCC officer rank is entirely honorary and does not have any relation to or authority and entitlements of actual military rank.
CAN I HELP ONLY A FEW HOURS A MONTH?
Absolutely! We understand that there are many people who want to help but have busy lives, and giving up 20-30 hours a month to be a full-time volunteer is just not feasible. Often all it takes is a couple of hours a month to help a unit sort uniforms, teach a class, chaperone a field trip, and the like. The contribution of a few dedicated part-time volunteers can go a long way to accomplish the overall mission.
HOW TO BECOME A VOLUNTEER
Request an interview with the CO.
Email a picture yourself taken from the shoulders up, wearing the approved uniform or coyote brown t-shirt, facing forward, on white background. Hair (and facial hair) must be per regulations.
If approved, the unit CO will send the prospective volunteer an email invitation link.
Once the prospective volunteer completes the application online, including all references, the application is returned to the CO for approval or denial.
If approved, while the background check is in process (it may take a week or so) the volunteer must complete the Darkness 2 Light (D2L) and OMSG coursework.
Once all of the above is completed, the volunteer status will move from "Pending Adults" to "Active Adults and the unit will issue an USNSCC ID.